All Bonaventure Reads author visits campus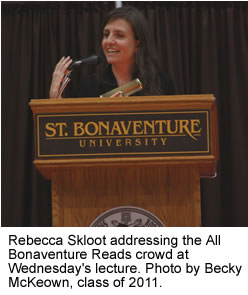 Freshmen, upperclassmen and scores of other Bonaventure community members packed the Reilly Center Arena Sept. 29 for a speech given by author Rebecca Skloot.

Skloot's book, "The Immortal Life of Henrietta Lacks," was the All Bonaventure Reads selection for the class of 2014 and was required reading for all incoming freshmen. The students were asked to write a brief reflection piece after completing the book. The 13 essays considered the best were included in a hardcover keepsake book presented to Skloot before the speech. The 13 winning essays can be found on the university Web site.

Skloot was overjoyed by the gift and made a point to acknowledge the generosity.

"The essays are by far the greatest gift I've gotten from any of the schools I've talked at," Skloot said before delving into her presentation.

Her book centers on the story of Henrietta Lacks, whose cells were taken without her consent during medical treatment. Lacks' cells became the first "immortal" human cells grown.

Skloot began her speech not by talking about her book, but by relating her life experiences.

She told her audience about her time in school, admitting she was far from the picture of the perfect student. Dr. Nancy Casey, First-Year Experience coordinator, greatly appreciated the author's sincerity.

"I loved how she talked about the fact that when she was in school she was a delinquent, and not in a bad way," Casey said. "What I heard her say was, 'I lived outside the box, and you can too. And you can still follow your passions, and you can still be a good student, and you can still be successful, but don't get trapped.'"

Skloot, who was determined to become a veterinarian, stressed to the students the importance of avoiding narrow vision when thinking about their future careers.

"We come to school with this very clear path in mind, and it's really great and wonderful to have goals and be focused…but don't have tunnel vision," Skloot said. "Don't be so focused that you don't allow yourself to notice other things, things you can't imagine as you're sitting here right now."

Skloot's decision to talk more about her experiences in relation to the class of 2014 and less about the book left students with varying impressions, said Casey.

"Some students wished she had talked more about the (Lacks) family, and other students though she was amazing," Casey said.

Jonathan Pierce, a freshman biology and pre-pharmacy major, enjoyed Skloot's approach to the speech.

"The speech gave a lot of information I didn't receive from the book," Pierce said. "It made the book more interesting."

Freshman journalism and mass communication major Daulton Sherwin said Skloot's enthusiasm shined throughout her talk.

"Her experience and her passion for wanting to write the book stood out the most," he said.
Sherwin also commented on his overall impressions of the book, and its ethical theme.

"It was a really enjoyable book," he said. "You learned about Henrietta then you moved onto the scientific part. It got a debate of ethics in your head."
-Bryan Jackson
Class of 2011
--------------------------------------------------------
Get involved in intramurals
Your student is learning to balance the responsibilities of college life – and that task can be stressful. Many students find that intramural athletic programs are a great way to relieve that stress and meet new people.

Intramural sports allow students to participate in a wide variety of competitive sports. The program has been a major part of student life at St. Bonaventure for several decades, growing stronger each year. Students now have the option of participating in flag football, three-on-three basketball, indoor soccer, indoor floor hockey, co-ed softball, co-ed volleyball, badminton, racquetball, five-on-five basketball, golf, dodge ball, bocce and Kan Jam.

For the first time this year, intramural participants can now register, view schedules and check on game outcomes, all from their computers.

Rob DeFazio, director of the Center for Activities, Recreation and Leadership, said intramural athletics are highly beneficial to all students because they "give students a chance to do something fun, that they enjoy, while meeting new people of all class years and burning off stress.

"Intramurals are one of the reasons we are such a tight-knit campus," he added.

The intramural program is organized by a council of 12 students who help DeFazio schedule, organize and oversee every aspect of the program. These 12 students coordinate workers in each event.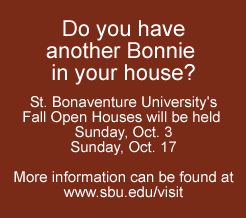 Students can easily balance their academic time commitments with intramurals and other responsibilities. Intramurals can take from two to eight hours a week, depending on the number of sports in which the student is involved.

Parents can encourage their student to find out more about or sign up for intramurals by visiting the Richter Center.

-Danielle Hibler
Class of 2012
--------------------------------------------------------
DisABILITY Awareness Month

October at St. Bonaventure: falling leaves, dropping temperatures, scurrying squirrels and midterms. But many St. Bonaventure students are also finding a rising awareness through events scheduled for Disability Awareness Month.

Events on campus will focus on augmenting awareness and increasing acceptance of the variety of ways a life can be led.

"The purpose (of these events) is to foster disability education and awareness," Dr. Barbara C. Trolley, professor of education and chair of the Disability Committee, wrote in an e-mail. "(We) recognize that persons with disabilities bring unique gifts and talents to the life of St. Bonaventure University." She noted the University's belief in an inclusive community that values diversity as a strength.

On Tuesday, Oct. 12, the University will host "It takes A Village… Come Meet the Village." The conference title makes a play on words stemming from the African proverb, "It takes a village to raise a child."

The conference will feature a variety of agencies whose purpose is to empower those with 'disABILTIES' to lead successful lives, according to Trolley. Ron Hager, a senior staff attorney at the National Rights Network will be the keynote speaker.

On exhibition throughout the month at the Regina A. Quick Center for the Arts is "Sticky Fingers: The Art of Alex Masket." The exhibit remains at the Quick Center through Nov. 28.

Evelyn Sabina, curator of education for the Quick Center, said the artist, Alex Masket, 23, is severely autistic.

"Alex is an artist first, and that should be what is focused on," Sabina said. "His work has been compared to jazz because of the bright colors that make up the composition; he is truly improvisational."
Although "Sticky Fingers" was not specifically brought in for Disability Awareness month, it fits nicely with October's theme.

For freshmen, the exhibit counts as a passport event. Passport events are activities occurring on campus meant to offer freshmen opportunities to enhance their college experiences. Included are offerings in academics, diversity, wellness, Franciscan values, service and other areas of campus life.

"For this (passport event) they will be able to come see the artwork, meet the artist and learn about autism -- it is a very multidisciplinary event," Sabina said.

"Disability awareness is a necessary movement," Trolley wrote. "The Disability Committee seeks to ensure wholeness throughout the university by promoting the full inclusion, participation and contribution of all persons."

As Sabina put it, "This is a Franciscan university, and acceptance and education is our main goal."
-Jess Kumor
Class of 2011
--------------------------------------------------------
WHAT'S GOING ON . . .
Upcoming events on campus include:
Ongoing - Math Lab available for drop-in assistance in mathematics

Saturday, 10/2 - Cedar Point Amusement Park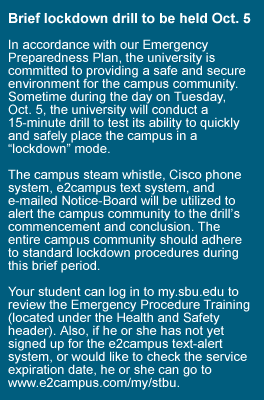 Sunday, 10/3 - Men's Soccer vs. Niagara
Tuesday, 10/5 - Campus Lockdown Drill
Tuesday, 10/5 - Tournament Tuesday: Billiards
Wednesday, 10/6 - Open Mic Night in the Skeller
Wednesday, 10/6 - Franciscan Themed Evening Away at Mt. Irenaeus
Thursday, 10/7 - "How Henrietta Lacks is helping us to find an HIV vaccine" by Dr. Adam Ritchie, Weatherall Institute for Molecular Medicine, John Radcliffe Hospital, University of Oxford
Thursday, 10/7 - Southern Tier Business and Entrepreneur Conference
Friday, 10/8 - Men's Soccer vs. Charlotte
Saturday, 10/9 - Autumn Work Day at Mt. Irenaeus
Saturday-Tuesday, 10/9-12 - Midterm Break
10/12 - "Inclusive Education: Being Realistic isn't Realistic" by Norman Kunc
Thursday, 10/14 - Sticky Fingers: The Art of Alex Masket in the QCA
Friday, 10/15 - Band Bears of the Blue River performs
Friday-Saturday, 10/15-16 - Jose Obando and Latin Musicians performance at QCA
Tuesday, 10/19 - "Killing Me Softly: A Disability Rights Perspective on Legalizing Euthanasia" by Norman Kunc
Saturday, 10/23 - Grove City Outlets
Tuesday, 10/28 - Comedian Chad Daniels
Saturday, 10/30 - Rafting Trip
Sunday, 10/31 - SBU Band and Choir Concert
Saturday, 11/6 - The Mountain Auction benefit in support of Mt. Irenaeus
Sunday, 11/14 - Buffalo Bills vs. Detroit Lions