Sharing Our Story
focuses on the people, programs and places of St. Bonaventure University.
The Bonds of Bona's
For East Aurora, N.Y., native Nick Theodorakos, '01, the bonds with St. Bonaventure only grow stronger as the years go by.
From late nights working in the Rathskeller as an undergrad to a fast-paced career in the options and futures markets of Chicago, one constant in Nick Theodorakos's life has been a strong connection with St. Bonaventure.
---
YOU SAW IT HERE FIRST
Julie Briggs Cunningham named director of annual giving programs



The Office of University Advancement is pleased to announce the appointment of Julie Briggs Cunningham as director of annual giving programs.

Ms. Cunningham most recently served as executive director and chief professional officer of the Allegany County United Way, a position she held for more than 13 years. She successfully transitioned the company from a traditional fundraising model to a community impact business model. She mobilized a network of more than 100 volunteers and increased United Way campaign donations by 300 percent.

"Julie brings to St. Bonaventure vast expertise in the areas of fundraising, strategic planning and public relations," said Mary Driscoll, vice president of University Advancement. "She has hit the ground running and is a welcome addition to our staff."
An active volunteer in her community, Ms. Cunningham has been a board member of the Business and Education Community Coalition, vice president of the Literacy Volunteers of Allegany County, and a member of the Wellsville Central School Board of Education.
She holds a bachelor of arts degree in psychology/communications from Hiram College.

Ms. Cunningham resides in Wellsville, N.Y., with her husband and their two children. She can be reached by phone at (716) 375-2301 or by email at jcunning@sbu.edu.
---
DID YOU KNOW?

The University welcomed new members to the National Alumni Association Board (NAAB):
Andrew Mantilia, '08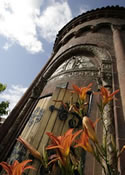 Senior Associate, KPMG LLP
New York City
Kate Torpey, '86
New York City
Marianne Glover, '75
Accounting Instructor, Daemen College
Buffalo, NY
Linda Cross, '71
Broker Support, W.H. Greene & Associates
Orchard Park, NY
Mary Quinn, '76
Office Clerk, Brockport Central School District
Brockport, NY
Art Roberts, '68
Independent Human Resources Professional
Rochester, NY
The University recently announced the appointment of three academic affairs administrators:

- Peggy Yehl Burke, Ed.D., as associate provost and dean of the School of Graduate Studies;
- Joseph E. Zimmer, Ph.D., as interim dean of the School of Education;
- Carol M. Fischer, Ph.D., as associate dean of the School of Business;
- Pauline Hoffman, Ph.D., as interim dean of the Russell J. Jandoli School of Journalism and Mass Communication; and
- Br. Basil J. Valente, O.F.M., as director of the Master's in Integrated Marketing Communications (IMC) program.


The University also welcomed several new members to the Board of Trustees during the quarterly Board meeting in September:

- Lana D. Benatovich of Buffalo, executive director of National Federation for Just Communities of Western New York

- James Canty, '84, of Concord, Mass., a partner with Clough Capital Partners, L.P.

- Kathleen A. Colucci, '77, of New Fairfield, Conn., vice president for finance of Integrated Operations at IBM Corporation

- Rev. Thomas E. Conway, O.F.M., of Silver Springs, Md., a provincial councilor, director of Post-Novitiate Formation, and chair of the Finance Directorate for Holy Name Province, and the guardian at Holy Name College

- Robert Crowley, '71, of Warren, Pa., retired senior vice president of marketing at Blair Corporation in Warren

- Thomas Garvey, '74, of Summit, N.J., retired executive vice president with J.P. Morgan Chase Bank

- William Purcell III of Nashville, Tenn., special adviser in the Office of the President at Harvard University and former director of the Institute of Politics at Harvard's John F. Kennedy School of Government

- James Stitt of Olean, CEO and president of CUTCO Corporation

In addition, Albert Horton, '66, of Louisville, Ky., and Vero Beach, Fla., joined the Board in March and began his first full term this month. Horton is chairman and CEO of Horton Fruit Company.

---
It's a Book Tour - Join in

It's official! People are enjoying and talking about the University's beautiful coffee-table book, "The Good Journey--150 Years of History at St. Bonaventure University".
If you have yet to purchase your copy, do not despair!
You can join the McCarthy Family -- Ann, '74, Bob, '76, and Dan, '10 -- at the following autograph sessions this fall:
Saturday, Oct. 8, Book Signing, 1 to 3 p.m., Barnes and Noble at the McKinley Mall, 3701 McKinley Parkway, Buffalo, NY

Thursday, October 20 - Book Signing and Talk, 7-9 p.m., Rohrbach Brewery, 97 Railroad St., Rochester, NY

Saturday, October 29 - Book Signing and Talk, 1-2:30 p.m., Marriott - Bergen Room, 138 New Pehle Avenue (Garden State Parkway at I-80) Exit 62 A/B off I-80, Saddle Brook, NJ 07663

The 160-page coffee-table book is based on the research of Professor Emeritus Dr. Edward Eckert, '65, and was edited by the McCarthys, who also provided additional content.

To order, or for more information, please visit www.franciscanpublications.com or www.sbuhistory.com.
---
2011 Holiday Valley Golf Outing: A Success

More than 70 members of the Devereux Giving Societies and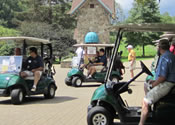 Corporate Athletics Sponsors gathered for a day of golf and good food at Holiday Valley in Ellicottville, N.Y., in August.
Honors on the greens included:

First Place - Thomas Frungillo, Terry Palmer, '03, Craig Melvin and Steve Mest, '91.
Second Place - Emily Sinsabaugh, John Markle, Tom Donahue, '76, and Dan Donner. 
Closest to the Pin - Dan Donner, Hole 9
Longest Drive - Alex Peck, '06, and Barb Questa. 
A barbeque and warm thanks from Sr. Margaret wrapped up the day.
Be certain to mark your calendar for next year's outing: Wednesday, August 8, 1 p.m. shotgun start at Holiday Valley.
---

Save the Date!

October 5
Dean's Reception
Elmira, NY
October 5
Young Alumni After-Work Reception
Washington, DC
October 6
Retirement party for Dean Lee Coppola and
51st Mark Hellinger Award Presentation
6 p.m., Templeton Landing,
Buffalo Waterfront, Buffalo, NY
October 8
The McCarthy Family will autograph copies of
"The Good Journey: 150 Years of History at St. Bonaventure University"
1 to 3 p.m.
Barnes and Noble, McKinley Mall
3701 McKinley Parkway
Buffalo, NY

October 12
Reception
Phoenix, AZ
October 13
Reception
Seattle, WA
October 18
Mountain on the Road
Binghamton, NY
October 20
History Book Tour & Book Signing
Rochester, NY
October 23
Mass and Picnic
Richmond, VA
October 28 & 29
History Book Tour & Book Signing
New York, NY
November 12 & 13
Alumni Hockey Reunion Weekend
Campus
November 12
Mountain on the Road
New Jersey
November 13
Mass and Reception
Long Island