'Faith Matters' tackles students' questions on faith and life
Students' questions will be specifically addressed and answered in the Spring 2010 edition of "Faith Matters: Conversations on Deepening our Discipleship," presented by St. Bonaventure's University Ministries.
---
Professor pens new book
on bloody Civil War battle
Chris Mackowski has published a new book on one of the bloodiest battles of the American Civil War.
"The Dark, Close Wood: The Wilderness, Ellwood, and the Battle that Redefined Both" tells the story of the Battle of the Wilderness, which took place May 5-7, 1864, in central Virginia's Spotsylvania County.
---
Upcoming Events

"Cardinal Ratzinger and Me" lecture by Dr. William Shea
today
7 p.m., Dresser Auditorium

"Jazz and Wings" with the Les Sabina Jazz Sextet
today
8 p.m, Rathskeller

"Globalization, The Perspective of the Franciscan Tradition" lecture by Sr. Mary Beth Ingham
Tuesday, March 23
4:30 p.m., Dresser Auditorium

Miriam Jones concert to benefit Haiti
Friday, March 26
7:30 p.m., University Chapel

SBU Theater's "Reality Bites: One Act Festival V"
Wednesday through Saturday,
March 24-27
7:30 p.m., Garret Theater

"The Cost of Intellectual Solidarity" lecture by Dr. William Shea
Monday, March 22
4 p.m, Plassmann Room 111

Spring Into Bonaventure
Friday, March 26

BonaResponds International Service Day
Saturday, March 27

Army ROTC Spring Awards Ceremony
Saturday, March 27
11-12:30 p.m., Quick Center
Army ROTC 68th Annual
Military Ball
Saturday, March 27
5:30 p.m. - cocktails, hors d'oeuvres
7 p.m. - dinner
Premier Banquet Center

University Spring Awards Ceremony celebrating the Fr. Joe Doino, Employee Recognition and Faculty Recognition awards
Tuesday, April 13
4 p.m., Quick Center

Barbara Carr McKee Scholarship Luncheon
Friday, April 23
11 a.m., Doyle Hall

2010 Army ROTC Commissioning
Saturday, May 15
9:30–11:30 a.m. – Commissioning Ceremony in the Rigas Family Theater

List your event in Inside Bona's:
inside-bonas@sbu.edu


>> SBU Web site calendar

>> Electronic Integrated Calendar

New SBU honor society recognizes outstanding students
St. Bonaventure's Arthur O. Eve Higher Education Opportunity Program, as part of a new honor society chapter on campus, recognized five students for their academic achievements and four honorary members.
An induction ceremony was held Sunday, March 14, on campus.
Chi Alpha Epsilon, or XAE, was formed to acknowledge the success of students admitted to universities and colleges through opportunity programs, such as HEOP.

» read more
---
Award-winning flutist Claire Chase to perform at St. Bonaventure's Quick Center
The dynamic flutist Claire Chase will perform with pianist Jacob Greenberg at 7:30 p.m. Friday, March 26, at the Regina A. Quick Center for the Arts in the eighth concert of the Friends of Good Music season.
---
BonaResponds to offer relief around the world for International Service Day
From Buffalo to Belize. From Minneapolis to Madrid. From Olean to Ethiopia. BonaResponds will partner with other relief groups across the nation and around the world on Saturday, March 27, the date of its first International Service Day.
---
Newsmakers
Dr. Jean François Godet-Calogeras was one of three speakers in a daylong program "Francis, Clare, Economics & Money" held Feb. 27, 2010.
---
Athletics News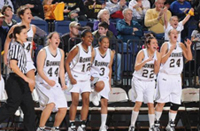 Bonnies are ready
for Robert Morris today
After a week off following the Atlantic 10 Championship, the St. Bonaventure women's basketball team hosts Northeast Conference regular season champion Robert Morris at the Reilly Center at 7 p.m. today.

---
---


Are you a fan? Tweet with us!
SBU on Facebook and Twitter
University to announce
major initiative Friday

All members of the campus community are invited to attend a special announcement Friday beginning at 12:30 p.m. in Dresser Auditorium of the John J. Murphy Professional Building.

University officials, including members of the Board of Trustees, will announce a major initiative that will have a significant effect on the University's success while also raising the profile and enhancing the capacity of The School of Business.

Light refreshments will follow the brief announcement.
---
Senior from East Lansing named 2010 Woman of Promise
St. Bonaventure's Russell J. Jandoli School of Journalism and Mass Communication named senior Andrea Doneth as the recipient of the 2010 Dr. Mary A. Hamilton Woman of Promise Award.
St. Bonaventure's Woman of Promise Award is presented to a female senior who excels both inside and outside of the classroom and sets a good example for her peers.
---
Singer/songwriter Miriam Jones to perform Haiti relief benefit concert on SBU campus
Fresh, soulful, touching, fun, and beautiful is how several critics describe the music of international singer/songwriter and recording artist Miriam Jones.
The Olean/Allegany community will have a chance to hear this soulful singer as she performs a benefit concert at the St. Bonaventure University Chapel on Friday, March 26, from 7:30 to 9 p.m.
The concert is being sponsored by the community service group BonaResponds, the Campus Activities Board, and University Ministries. Admission is by donation, with a suggested contribution of $10, which will be collected at the door. Proceeds from the event will benefit BonaResponds' Haiti relief efforts.
---
Annual Mary Devereux Luncheon (in lieu of the Friday Forum)
Date: March 19
Time: 12:30 - 1:30 p.m.
Location: San Damiano Room
Cost: Free and based on an African theme! Courteousy of the President's Office and the Women's Studies Program
Speaker: Dr. Eva Tagoe-Darko of Ghana, Fulbright Scholar
Title: GHANA – The Importance of Traditional Teachings and Practices for Adolescent Reproductive Health
Summary: Adolescent pregnancies within as well as outside marriage have become a major problem for the international community (UN, WHO, etc.). While research has been initiated to better understand and develop pragmatic responses to this issue, traditional practices and teachings that address adolescent reproductive health have virtually been ignored and, unfortunately, are on the decline.

Dr. Tagoe-Darko's research seems to suggest that an understanding of traditional teachings, their unique characteristics and concepts that enable them to promote health may facilitate the development of another form of training besides classroom education. This is a crucial factor in adolescent reproductive health.